If you are thinking about buying a dry herb vaporizer, you are on the right page!
Vaporizers are completely changing the way we consume marijuana, both for recreational and medicinal purposes.  When selecting a vaporizer, do your research or visit a reputable site like www.portablehookahs.com
So What is Vaporizer?
A vaporizer is an electrical device that is responsible for heating the marijuana to a high enough temperature to extract steam from it without burning it (usually at 200 degrees Celsius), resulting in a vapor rich in cannabinoids and essential oils.
The today Herb vaporizer is the device with which we can consume cannabis in the healthiest way possible. The vaporizer is responsible for extracting the compounds of the plant material without burning them and therefore, without combustion, thus preventing the toxic smoke that causes combustion from reaching your lungs.
By smoking this way, the puff of the herb or substance that we are going to vaporize will be much more pleasant and with a lighter rush.
Why Use an Herb Vaporizer?
Compared to the smoke that we aspire in a traditional way, vapor is much cleaner and lighter, so it is healthier. The traditional smoke of a joint besides having the desired cannabinoids contains harmful particles generated by combustion. There are studies that show that only 10% of the smoke we inhale contains cannabinoids, contrary to the vaporizer that is rich in cannabinoids by 95%.
Vaporizing has changed the way people enjoy marijuana forever.
By offering a reliable way to consume cannabis for both recreational and medicinal purposes, but without the health risks, vaporizers are becoming little by little a familiar item for most regular consumers. And thanks to advances in vaporization technology, vaporizers are becoming more portable and affordable than ever.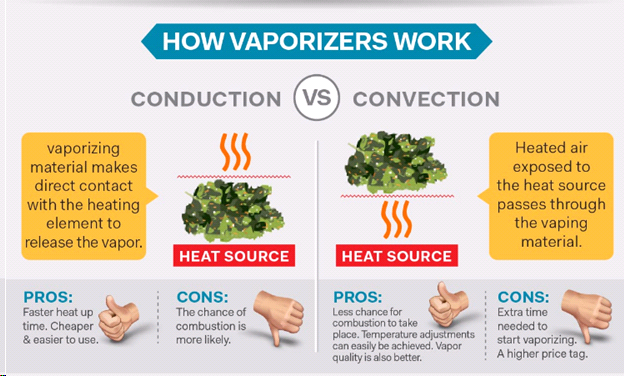 Choosing an Herb Vaporizer
If you're thinking about buying dry herb vaporizer but don't know where to start, then don't worry, we've put together the ultimate guide to choosing the right dry herb vaporizer for you:
Let's a look at some important things when making your choice:
When choosing a Dry Herb Vaporizer always keep in mind the battery life, temperature change easiness, and time it takes to heat up.
You should also consider buying a grinder because dry herb vaporizers require the flower material to be ground fine. So it's important that Cannabis should be dry enough to vaporize.
Battery Life:
There is no customer that doesn't care about battery life when choosing any electronic product, same goes to dry herb vaporizer. Most user think about average about 4-5 sessions, or maximum 8 sessions.
Most customers like to choose 'rechargeable replaceable' batteries that allow them to carry a replacement, or to USB compatible kits that allow them to charge as they smoke.
Need Desktop or Portable Vaporizer:
Portable vaporizer comes with a wider body, with bigger-capacity herb and concentrate chambers or cartridges. Most models sport multiple temperature settings. Screen displays that Indicate vaporizing temperatures. This vaporizer has the bigger herb capacity, no combustion for true vapors, and comes with customizable temperature.
On the other hand, desktop vaporizer has biggest build with the largest material capacity. You can easily directly connect to the power outlet. Also come in forced-air or whi-style. It has bigger herb capacity, has no combustion for true vapors, denser vapors.
Temperature Controls:
Controlling the temperature of your device is the feature that you should always look for when choosing any dry herb vaporizer. 180 and 200 degrees Celsius is the best temperature. A good heat up time should be between 10 and 20 seconds.
Temperature control options include adjustable knobs, digital displays or several preset options. According to us digital is the best option you should chose. Digital option includes mobile application as well.
Size:
Size matters. Vaper should be able to carry his/her dry herb vaporizer where they go. The size of the chamber is important so people can share during a single session.
Price:
Just like size, price also plays an important role. We must know that high quality products always come with a high price range. So you should have a big heart when buying dry herb vaporizer, rest depends on users buying capacity. Do not shy away to buy the expensive vapes available in the market. $200-$300 price range is an ideal choice one can make when buying.
Other Accessories:
This last one is important. When you choose dry herb vaporizer, you should consider some accessories that keep your device clean and in rechargeable shape. Make sure you know in advance which accessories you are going to need in future.
We hope these helpful tips will guide you to choose the right dry herb vaporizer that perfectly suits your needs.