Becoming a Medical Marijuana Patient in the United States involves different requirements depending on the state you reside in.  Check our article on Medical Marijuana States or www.safeaccessnow.org for more information for laws in your state.
While there are now states that allow medical marijuana for recreational use, there are still states like California (which may be on their way to full legalization), still require a valid doctor's recommendation. Like California, other states which allow medical marijuana also follow a similar law and structure. We'll use California in this article as an example of how to become a medical marijuana patient in this particular state, which may be closely similar to other states.
Application Process
In California, the law products non-profit collectives to grow medical marijuana for patients and allows caregivers and patients to reimburse the collective for costs associated with producing medical marijuana.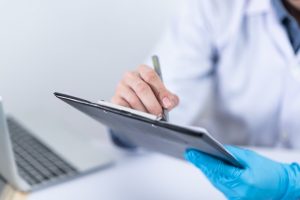 To be a legal medical marijuana patient in California, you need a valid doctor's recommendation, which can be obtained through an appointment with a medical marijuana doctor. Recommendations are tracked through the state and private systems. A valid recommendation not only allows you to produce or obtain medical marijuana through a collective, it also gives you some afforded protection from arrest and criminal sanctions or prohibit hiring discrimination from an employer against individuals on the basis of their being medical marijuana registration cardholders.
There are various entities that issue medical marijuana ID cards.  It typically takes up to 24 hours for these entities to verify your recommendation and produce your card.  ID's are valid for one year and are renewed annually.
What's Allowed
In California, there are limits as to how much medicine a patient can grow or carry. State limits are 6 mature or 12 immature cannabis plants, plus 8 oz of dried cannabis per patient. There may be localities where these numbers vary. Collectively, patients can combine these limits together and give proxy to a collective to grow for them.
What Conditions are Commonly Treated?
See our articles on various ailments treated with cannabis.
There are various medical marijuana evaluation clinics out there, many of which do not seem legitimate.  
opencaremedicalclinic.com
is a top clinic that surpasses the rest and also provides other services such as MMJ Exams and Recommendations, ADD testing and treatment, Suboxone Treatment for Opiate Addiction, Pain Management, Weight Management, Anti-Aging and Hormone Therapy.
Republished by Blog Post Promoter