With the rise in recreational cannabis in the United States, more people are becoming accepting and tolerant of cannabis use.  Not only can it be a fun past time, but cannabis also has an abundance of benefits for patients, animals, and more.  
That said, cannabis-related products have also seen a rise in popularity, and it's not uncommon these days for a person dear to you to maybe want something cannabis-related on their wish list.
Besides gifting them with the herb itself, there are a number of cool items out there to think about.
There are many types of cannabis lovers. Here is a short but cool list of a variety of items we thought could appeal to various cannabis lover genres.
KØL [kow-l] Pipe
The KØL [kow-l] is a pipe like you've never seen before, rebuilt entirely from the inside out, made of recyclable aluminum.  KØL's unique cooling system is built right in with, for the first time ever, a micro-channel design incorporated into the aluminum.
The design effortlessly strips heat from the herb mechanically – requiring no water – and results in a significantly smoother experience. This means less coughing there and then, as well as going forward.
Inspired by the scales of the Mako shark, KØL's carefully crafted interior is structured so that airflow is forced into a flux of vortexes to trap a higher proportion of herbal impurities. Think of KØL like your very own set of gills, filtering for a cleaner high every time.
The inside of the pipe is accessed by simply snapping it open. Hidden magnets hold the core together, gripping firmly while in use and allowing direct access when finished.
For more information on this piece, visit www.hoj.life
KLIP Grinder
KLIP is a grinder with a lifetime warranty built it to last.  Using materials that are either grown or recyclable, it's Danish design improves each life it touches.
Unlike traditional grinders, KLIP doesn't crush the herb.  A patent-pending custom-built cutter finely slices through it, creating a much more fluffy consistency
for smooth burning as well as protecting the herb's integrity. This results in a more potent herb that burns more evenly.
KLIP patent-pending system opens magnetically with a twist of only 10-degrees and why, unlike the quarter-turn system most grinders are built upon, can be effortlessly spun in 1-degree increments.  KLIP has a patent-pending magnetic accessory system, ensuring you can achieve the right high every time. It comes with three different control discs and three different meshes – fine, medium & coarse.  You can grind fine herb for cones, coarsely cut herb for pipes, and everything in between.
KLIP comes in 3 different editions:
Pro Edition
With an additional aluminum chamber that fits magnetically into place to expand KLIP, providing extra space for your herb or the room to add a Mesh Ring. The modular design allows an unlimited extension, letting you customize how you prepare your herb.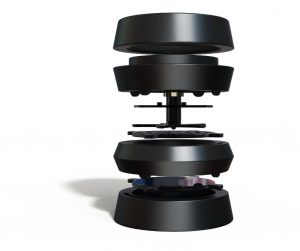 Basic Edition
KLIP in it's most portable form, that still slices rather than crushes the herb to provide a fluffier consistency that better retains its potency and burns more evenly. Made from four parts of aluminum that clip together magnetically around stainless steel blades, the grinder turns with almost no friction.
Funnel Edition
This patented design aluminum funnel attaches to KLIP's slicing chamber magnetically, enabling herb to be transferred easily and without spillage.
Precision engineered to work with KØL, the shape matches the pipe's bowl perfectly.
For more information on this piece, visit www.hoj.life
MagicalButter MB2E 110V
For cultivators, edible and topical enthusiasts alike, introducing the MagicalButter!  This is one of the easiest ways of making butter we've come across.  Now it's easy to make cannabis-infused butter at the comfort of your own home with little odor.  The MagicalButter makes herbal Butters, oils, tinctures, soups, sauces, salad dressings, skincare products, pet medicines, and more.
It's as easy as dropping your herbs in, adding some butter, and watching it go!  Butter takes about 2 hours to make.  Comes with gloves to prevent absorption into your skin, which does get you high!
Check out this video for more:
Vapexhale Standard Starter Kit
Any cannabis lover can appreciate a good vaporizer.  The EVO™ uses hot air to evenly, efficiently, and thoroughly unveil aromatic vaporizer healing properties. This vaporizer produces relaxing and therapeutic elements are activated with precision to produce robust aromas with unparalleled vibrant flavor.  The heater core is encapsulated in glass to provide the purest air path possible.
You can attach the Vapexhale to a waterpipe extension to produce and even purer vape.  The combination of superior taste and purity provides the cannabis enthusiast with a flavor profile unmatched by any other vaporizer or aromatherapy device.
Check out this video for more:
Viparspectra
The age of LED lights for growing has come!
When using LEDs, the latest models with full-spectrum light are your best bet.  Without full-spectrum, plants can become nutrient deficient and don't grow well.
LED grow lights have become a popular alternative to growers who want an alternative to HPS grow lights, although older models produce slightly smaller yields per watt.   Some growers believe that they help produce more resin in the buds.  They run a little cooler and have built-in cooling, although they still produce heat and tend to need more space between the light and the plant; larger versions need exhaust and require ventilation.
The latest full spectrum LED grow lights have been known to produce greater yields, do not flicker, and don't need to use additional fans since they do not overheat.  They can be used for 50k hours or more and do not need service for years of use.
VIPARSPECTRA"Dimmable PAR Series" PAR1200 DIMMABLE LED GROW Light
Pictured below is the VIPARSPECTRA PAR1200 Dimmable LED Grow light.  With 2 DIMMERS, a full spectrum layout, secondary optical lens design with upgraded aluminum cooling heat sinks, the PAR1200 is ideal for all kinds of indoor plants veg and flower at all growth stages.
Product Features
The VIPARSPECTRA PAR1200 Dimmable LED Grow light is scientifically engineered to keep the balance of the PAR/Lumen Output and Coverage.
The secret to the VIPARSPECTRA LED's success is that it provides the optimal full spectrum which provides plants in Veg, Flower, and all stages with everything they need in natural sunlight.
VIPARSPECTRA compares to traditional 1000 watt HPS/MH while consuming only 549 watts! Perfect for a 4×4' growing area at 24" height (Max coverage 5×5').
Upgraded 3.2" fans and big aluminum cooling heat sinks (0.8" height) are easy for heat dissipation.
We hope some of these cool recommendations will bring a smile on the face of your dear cannabis lover or cultivator.  Any more recommendations, please leave in the comments section below.